New stop flow system takes peak detection to the limit
31 May 2007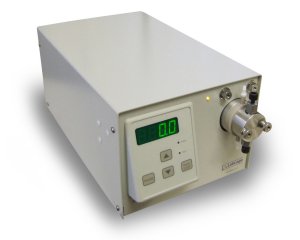 A free brochure from LabLogic Systems explains how the company's new SoFie stop flow system achieves the lowest Limits of Detection for radiochemical measurement of low-level samples, superseding time-consuming and expensive liquid scintillation counting.
As an example of what can be achieved, the brochure includes chromatograms from an analysis showing the dramatic improvement in peak definition when SoFie is introduced into a conventional HPLC method.
Most convincing of all is a demonstration using potential users' own data, which can be arranged by contacting LabLogic on solutions@lablogic.com.
SoFie, which consists of a specially developed pump (illustrated) controlled by an optional module in the company's Laura data analysis software, optimizes the residence time of the analytes in the detector flow cell.
It can be operated in-line with a conventional HPLC system, immediately converting it into a stop flow analysis package with no change in chromatography method parameters.
The Laura software can also be used to control existing stop flow systems from other manufacturers.