LabLogic donation just the job for Sheffield kids' charity
30 September 2009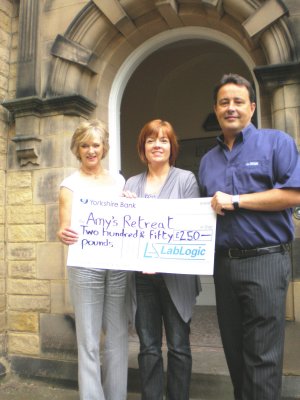 Sheffield-based Amy''s Retreat is the latest charity to benefit from an unusual Employee of The Month scheme operated by local drug research software and equipment company LabLogic Systems.
Each month staff at the Melbourne Avenue firm decide who should receive the award– and the winner chooses a charity to which a £250 donation should be sent.
It was administrator Kate Botros who nominated Amy''s Retreat. "I wanted the money to go to a local charity, and I could see that the work they do is undoubtedly of benefit to the people they are trying to help," she said.
Amy''s Retreat was set up by Stephen and Joanne Hall from Shiregreen in memory of their daughter Amy, who died at the age of five after a three year battle with cancer. It provides families in similar circumstances with much-needed quality time away from day to day routines. Currently the charity funds Center Parcs holidays for this purpose, but in the long term it hopes to build a dedicated holiday home bearing Amy's name.
Kate Botros is pictured (left) at the cheque presentation with Gabrielle Latham from Amy's Retreat and LabLogic managing director Richard Brown.
Other LabLogic employees have chosen to donate 'their' £250 to many other good causes, such as Asthma UK, the British Heart Foundation, the specialist acute stroke unit at Calderdale Royal Hospital, Cancer Research, and the Royal British Legion.