Introducing the brand new Hidex Sense Microplate Reader
11 February 2013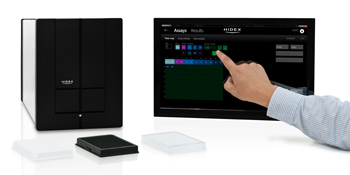 Hidex, the producers of the Chameleon V plate reader and the 300 SL Liquid Scintillation Counter, have been hard at work creating a revolutionary design for their next-generation plate reader: the Hidex Sense.
The Hidex Sense offers great flexibility combined with high performance, capable of fluorescence intensity, TRF, fluorescence polarisation, luminescence, and absorbance with a wavelength scanning function. In addition, Hidex's new and improved optics and light guides allow for measurements of the highest sensitivity in each mode.
The Hidex Sense software - bespoke for this instrument - proves that running assays does not have to be painstakingly complicated. Its touchscreen operation and user-friendly interface means it can be used effortlessly, simply at your fingertips, just like many of today's smartphones and tablets.
Complete with a pre-loaded comprehensive assay library and multiple measurement technologies, the Hidex Sense offers immediate access to your applications; saving you time when starting any assay.
Utilising filter technology for fluorescence applications, the best possible sensitivity and reading speed can be achieved, and with a capacity of up to 32 filters, the innovative on-board double filter reel offers maximum flexibility. Uniquely, the same filters can be used for both excitation and emission.
The Sense's on-board spectrophotometer means spectral scanning can be recorded for your photometric assays extremely quickly. Each sample is scanned in less than a second with no compromise in sensitivity! Indeed, with so much technology packed into such a compact instrument, no laboratory should be without one.
Take a look at our video/brochure for a taste of what the Sense has to offer.
For more details or to arrange a no obligation demonstration please contact sales@lablogic.com