Providing the finishing touch to the MIDAS Centre
5 November 2015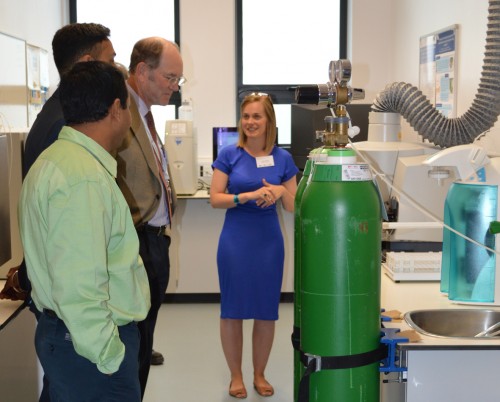 The University of Sheffield recently acquired a Hidex 300 SL for its new state-of-the-art advanced nuclear materials research facility, the MIDAS Centre.
MIDAS (Materials for Innovative Disposition from Advanced Separations) is a national user facility set up by the university's Department of Materials Science and Engineering to provide academic, public and private sector organisations with access to the latest technology to support world leading research in the management and disposal of radioactive wastes from the nuclear fuel cycle. The facility provides space to accommodate around 40 personnel, in a high quality research, training and office environment.
At the centre's official opening on the 8th September 2015, more than 120 research experts were given a tour of the new facility and a demonstration of the laboratory equipment. Visitors included representatives from the Nuclear Decommissioning Forum in Japan, Idaho National Laboratory from the USA, and Areva from France, as well as the UK Department for Energy and Climate change and the Foreign & Commonwealth Office.
The Hidex 300 SL with alpha-beta separation forms part of a suite of instruments installed at the site and is available for use on current and future research projects. The instrument is a key acquisition for the centre, as Dr Claire Corkhill, Vice Chancellor's Fellow in Geological Disposal of Nuclear Waste explains: "The development of robust materials to immobilise nuclear waste requires an understanding of material durability; the installation of our new Hidex 300 SL liquid scintillation counter, will allow us to accurately measure radionuclides, such as technetium-99, released to solution from our wasteforms, even at very low concentrations. This is crucial to provide confidence in the performance of nuclear waste materials for long-term storage and disposal. Additionally, the instrument will support our growing research in understanding the long-term evolution of radionuclide particles in the environment."