Debra - Not just for ADME
13 August 2018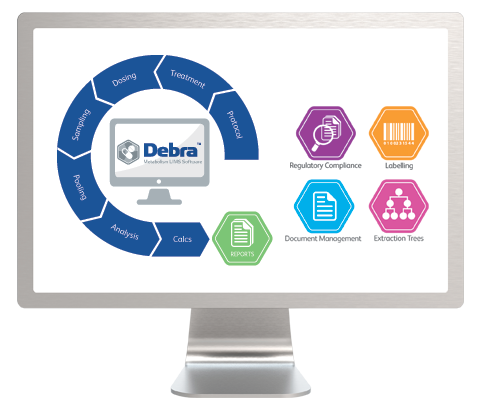 Debra Metabolism LIMS Manages Multiple Study Types
For over 30 years, Debra Metabolism LIMS has been the industry standard system for performing ADME studies, providing not only time-saving and study management benefits but also regulatory compliance, meeting GLP and 21 CFR part 11 requirements.
More recently, Debra's functionality has expanded to encompass other study types, including a suite of Protein Binding and Environmental Metabolism studies. These have been specifically designed to meet the needs of those studies while still including Debra's core data capture, compliance and reporting functionality. This provides a consistent approach across multiple study types, reducing overheads in maintaining different systems and reducing the amount of training needed for staff while increasing productivity.
If you have any further study type suggestions, please submit them here.
A LIMS for Environmental Metabolism

Debra has options to perform most types of soil rate of degradation studies, including:
Aerobic/anaerobic metabolism
Aqueous sediment
Photolysis
Hydrolysis
Adsorption/desorption
Complex extraction trees can also be created for residue determination; these are flexible and can be built on the fly. Debra allows you to configure libraries of soils within the system for use in multiple studies and analyse/monitor the moisture content. As well as dispensing soil, Debra provides automatic, equivalent dry weight calculations.
You can easily maintain soil moisture content during the study lifecycle with automatic calculation/prompts for the amount of water to dispense, and automatic weight capture.
Debra provides a visual approach to adsorption/desorption Tier I, II and III studies, displaying the processes in an easy-to-read tree format and including Koc/Kd calculations.
Protein Binding

Perform multiple assays in Debra: ultrafiltration, equilibrium dialysis, ultracentrifugation, blood cell partitioning. Each assay also has additional options for non-specific binding and time to equilibrium assessment prior to the main study.
Studies can be configured with multiple species, concentrations and replicates.
Stock solutions can be created, with the facility to easily define, prepare and analyse serial dilutions.
Spiking schedules can be defined, with the ability to analyse the spiked sample. % Free/bound and associated calculations are automatically performed and reported.
ADME

Debra's traditional core study types include mass balance, tissue distribution, blood:plasma ratio and pharmacokinetics.
As with all study types, complex protocols can be created to include multiple dose routes, species, dose rates, and dose times as well as sampling schedule definition.
Data can be captured automatically which eliminates transcription errors and checking. Full reporting at all stages with automatic generation of final summary tables and graphs.
Extraction Trees

Available as a stand-alone study or created within existing studies, extraction trees track the extraction of metabolites and residues.
An initial sample is selected or defined and the user then selects what happens to that sample – extractions, the concentration of samples, pooling, splitting. The process is tracked via a visual tree with recoveries and concentrations at each stage
Trees can be built on-the-fly, with additional steps added as needed, so perfect for method development. Known extraction processes can be saved as templates for future consistency.

WBA
Debra can import WBA data from a variety of external sources, via standard batches.

Use Debra's protocol definition and sampling facilities to create studies and batches to import QWBA data, allowing instant reporting consistent with other Debra study types.

Topical Application
The software is designed for studies where the dose rate needs to be defined by application area (ha/m2/ cm2), whilst also allowing default areas to be defined.