Hidex multi-mode microplate reader integral to tuberculosis vaccine development
28 November 2019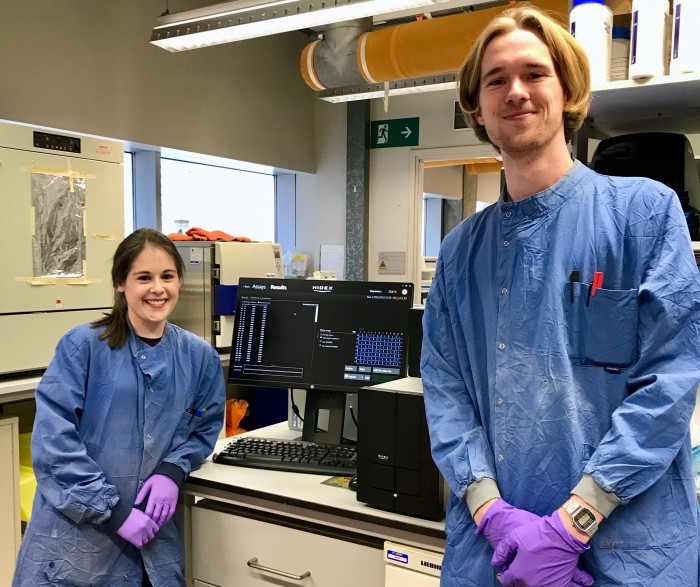 Pictured: Bethany Schneiderman and Mark Stringer, Imperial College London.
Hidex Sense Multi-mode microplate reader contributing to vital TB research
Dr Brian Robertson, from Imperial College London's Department of Medicine, is conducting vital research into creating a new vaccine for Tuberculosis (TB) using the Hidex Sense multi-mode microplate reader. The work is contributing towards the End TB Strategy from the World Health Organization (WHO).
Dr Brian Robertson is also a founding member of the MRC Center for Molecular Bacteriology and Infection, and the Center for Integrative Systems Biology and Bioinformatics. He is Co Editor-in-Chief of the journal Tuberculosis, and Director of the Wellcome Trust funded 4-year PhD programme in the Molecular and Cellular Basis of Infection.
Why do we need a new TB vaccine?
Dr Robertson said "The current BCG vaccine protects against TB but is only 70 - 80% effective. In India and Sub Saharan Africa it is not working as well as it should be for various reasons."
How are you using the Hidex Sense?
Dr Robertson said: "We are using the Sense for developing ways of measuring how effective a new vaccine would be. In particular, to develop the tools to predict which vaccines will work best before embarking on such a large-scale clinical trial.
"Our previous instrument did not measure fluorescence at the wavelengths we needed, so with the Sense we are developing an assay using fluorescence. We would compare a fluorescence reporter bacteria that someone would get as a result of the BCG vaccine, alongside the test vaccine, to see how quickly the fluorescence disappears over time using a non-invasive procedure with a camera."
What do you like about the Hidex Sense microplate reader?
Dr Robertson said: "The Sense is lightweight and has an extremely small lab footprint, which is great compared to others on the market. In the next stage of our project, we will be carrying out work in a Biosafety Level 3 lab. We will have to move the Sense to a different lab, and it will need to be moved in and out of a safety cabinet. This process is quite laborious and involves fumigation but because the Sense is so compact, the process is made much easier."
Beta Plus Microplate reader
Dr Robertson added: "It is a real bonus that we have the Beta Plus version of the Sense, combining liquid scintillation counting into the multi-mode microplate reader, as we have some colleagues interested in doing metabolic labelling using the scintillation counting."
How do you find the software?
Dr Robertson said: "We appreciate the simplicity of the software. The Sense is currently located in our main laboratory where it has multiple users from different groups, who use it to work on different projects. The software doesn't require extensive training and people can design their assays easily whilst getting to know its other capacities and recognising its functionality."