Video: The world's most compact absorbance plate reader
15 September 2020
Watch the Absorbance 96 plate reader in action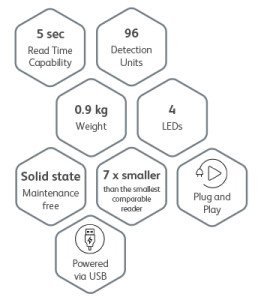 The Absorbance 96 is the only truly portable plate reader in the world.
The instrument has been designed to give you complete flexibility with a uniquely designed, compact, solid state microplate reader consisting of 96 detection units.
Its portability enables on-site readout, eliminating the need for sample transport.
The Absorbance 96 delivers precise and accurate results at an affordable price.
The instrument's software features a modern, attractive interface with smooth navigation and a logical flow.
Software user experience is designed so intuitively that the functions are understood within minutes and no extensive training is necessary.