Supporting the production of theragnostic radionuclides
26 May 2022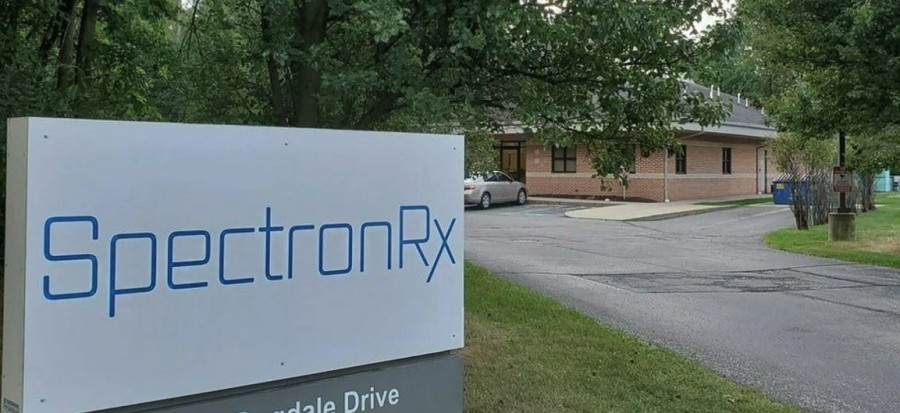 SpectronRX's head office in Indiana, USA
LabLogic has proven to be a one-stop shop for SpectronRX, a US CDMO
SpectronRX is a US Contract Development and Manufacturing Organisation (CDMO) headquartered in Indiana, producing theragnostic radiopharmaceuticals. Originally founded as Nukemed with a single location, SpectronRX now has three sites with plans for further expansion and has developed a successful partnership with LabLogic.
We spoke to Lake Wooten, Senior Scientific Project Manager, to find out what has made the working relationship so successful.
Choosing a single supplier
Lake began by explaining how SpectronRX and LabLogic came together.
"There was a big internal discussion about which vendor to use. Our staff have come from very different backgrounds and were used to all kinds of different instruments from every possible supplier. It was Beth Kraemer, our Vice-President of Quality, Regulatory and Technical Compliance, who first recommended LabLogic when we were considering who should be our primary vendor. She had previously worked with LabLogic at Zevacor Pharma and had good experience. Both Beth and I pushed hard for LabLogic, and we know we made the right decision now because we never hear a peep out of anybody at SpectronRX about switching vendors."
Lake recalled his early experiences with LabLogic, saying, "I originally worked as a radiochemist in academia using instruments that were very old. We never had service or support contracts, so when I began working at SpectronRX, I was excited to be able to pick up the phone or send an email to LabLogic and have somebody help me. It's something I have really taken advantage of because I had very little experience with HPLC when I joined. The business was only just starting with two or three people in the lab, including myself, when we secured a contract with a big pharma customer. The HPLC got thrown in my lap, and it was critical in making that contract and our company a success."
Bringing existing relationships to new customers
When asked why he and Beth chose LabLogic, Lake cited both the quality of the instruments and the existing relationships with other vendors.
"One of the big cuts for us was the partnership between LabLogic and Agilent. Now we have our service contracts for our Agilent hardware through LabLogic, because LabLogic engineers are just as good with Agilent instruments as the Agilent engineers are themselves."
"We found LabLogic's Flow-RAM radio-HPLC detector to be more accurate than the Eckert & Ziegler flow detector, and as LabLogic distribute the Hidex gamma counters, that allowed us to streamline our purchasing. It's a better product than the PerkinElmer and I'm looking forward to Hidex being more integrated into Laura once the new AMG control module is released."
Experienced expert support
Lake said, "LabLogic seemed to have faith in SpectronRX and invested in the relationship with us, believing that we would be successful. We feel like we have a team of experts working with us, which is really neat."
"I've been extremely grateful to LabLogic's service and support because I'm also responsible for the procurement of new laboratory instruments, making sure they're validated and revalidated every year and compliant. Not having to deal with multiple vendors and having everything in one place is extremely helpful."
"When I've worked with other vendors that don't have experience in preclinical animal studies or radiopharmaceuticals, I've had to teach them, in order for them to be able to give me what I need. I've never had to do that with LabLogic, and we're able to comfortably ask for advice because they have the experience and understanding already."
FDA 21 CFR Part 11 compliance
Elaborating on SpectronRX's manufacturing, Lake said, "Very few of our customers approach us with a fully developed radiopharmaceutical to manufacture, so we usually have to solve a lot of problems for them before production, and it's those solutions that I work on.
"Typically, our customer supplies the drug molecule and we attach the radioisotope to it in our cleanrooms. We perform around ten quality control tests on the radiopharmaceutical before it's released to the hospital or clinic where it will be injected into patients. We are the very last Quality Control before it's injected into a human, so everything has to be done well.
"We have to validate, check system suitability the day after production and store data in compliance with FDA 21 CFR Part 11. It's not necessary for us to be compliant at this point of production, but that is the standard we have decided to work to, and this critical part is what LabLogic has allowed us to achieve in one stop."
Collaborative software product development
LabLogic worked on a special project with the AR-200 radio-TLC scanner for SpectronRX, which Lake recounted.
"Even though it was not a LabLogic product, they were very familiar with the AR-2000 and developed a calibration module in their Laura radiochromatic software for it. And that felt really good to be listened to. We might have been the first ones to ask for this, but I doubt we'll be the last. They invested the time and effort into developing that for us and their developers made it look easy."
A secret weapon
Speaking about the ongoing support that LabLogic continues to deliver, Lake said, "I think LabLogic is kind of like a secret weapon for our company. They have given us huge advantages and saved us a lot of work. With the support given over the years, we're often able to troubleshoot things ourselves internally, but when we do need LabLogic's help, it's just so much nicer to reach out to a company who knows what we're asking for and does it quickly."
"We would always consider another vendor if we felt weren't getting the service that we need from LabLogic. It could be very easy for you guys to think that you have our business locked in and stop paying attention to us, but we've never felt you've done that."
"The service and support team are all really brilliant, and I don't just mean that in the British way. They're geniuses."
Find out more
You can learn more about LabLogic's instruments by clicking the button below to speak with our Product Specialists directly.