Endotoxin testing of PET radiolabelled tracers with the Endosafe® nexgen-PTS™
2 May 2023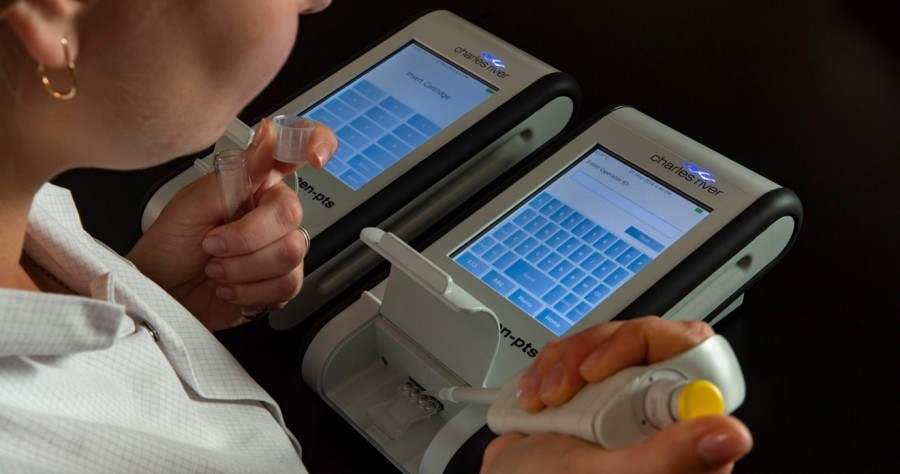 LabLogic is now an official distributor for Charles River's hand-held portable spectrophotometer for LAL assays providing endotoxin results in 15 minutes
Although PET radiotracers are prepared under aseptic conditions and administered using sterilised vials, the risk of contamination by touch or from surfaces presents a potential risk. The limulus amebocyte lysate (LAL) test is a validated method for detecting bacterial endotoxins in short-lived PET radiopharmaceuticals. Using this method, radiopharmaceuticals can be released for administration to humans after the test without significant loss of radioactivity.
LabLogic is now an official distributor of the Charles River Endosafe® nexgen-PTS™ spectrophotometer for endotoxin testing for PET-QC. By using LAL cartridges to perform duplicate sample and positive product control, the nexgen-PTS™ satisfies the Bacterial Endotoxin chapters USP<85> and EP<2.6.14>.
The nexgen-PTS™ allows users to achieve quantitative results with only two simple steps in 15 minutes. This point-of-use assay can be performed on the production floor or in the QC lab and the Endosafe® cartridge technology allows labs to be compliant with current data integrity standards beyond what the traditional gel-clot assay can provide. Cartridges greatly reduce the potential for human error by eliminating many manual steps and required accessories that are involved in traditional LAL assays.
Find out more
LabLogic is pleased to offer the Endosafe® nexgen-PTS™ as part of a complete PET-QC solution to complement our existing range of instruments and software. You can learn more about it by clicking the button below.