Synthesising and validating [18-F]PARPi with the Logi-CHROM HPLC system
25 May 2023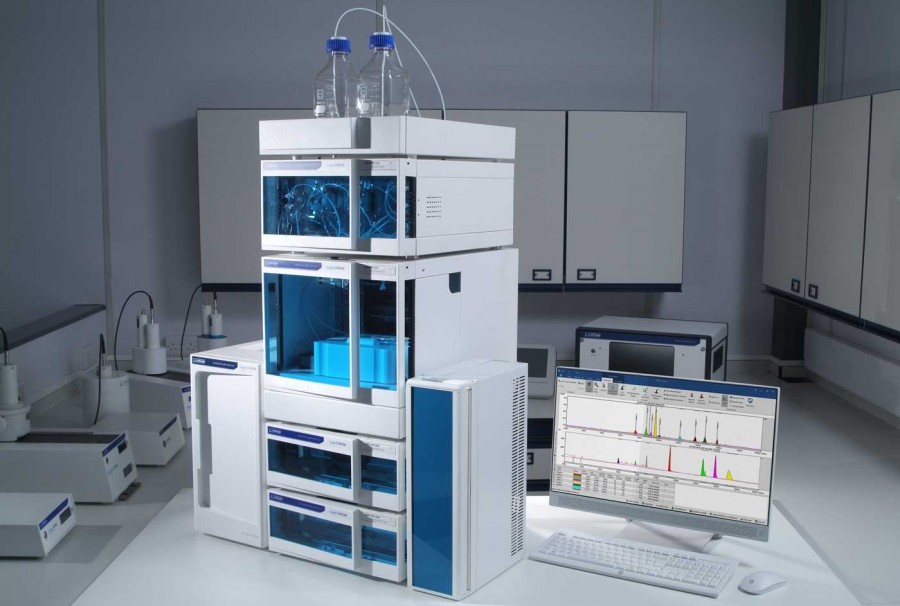 LabLogic's HPLC modules have been installed at Essen University Hospital where it is used in the development of novel radiotracers, peptides, and liposomes
A Logi-CHROM HPLC system has recently been installed at Essen University Hospital's Clinic for Nuclear Medicine. The system was procured to complement the clinic's existing suite of HPLC instruments to increase capacity for a growing team of radiochemists. The hospital has also collaborated with contract research organisations to develop novel tracers, peptides, and liposomes radiolabelled with fluorine-18, zirconium-89, and gallium-68.
Anna Pacelli carries out postdoctoral research at the radiopharmacy into the automation and validation of radiopharmaceuticals for clinical use, specifically [18F]PARPi which was originally developed in the United States but had no automation and scale-up. Anna uses the Logi-CHROM with a Flow-RAM radio-HPLC detector for synthesis and optimises the radiolabelling and quality control, explaining why it was chosen over other HPLC solutions.
"With the autosampler, I can prepare a batch, leave it there, and the Logi-CHROM does everything for me"
"The R&D team had been gifted an older HPLC system by our radiopharmacy, but we wanted one with a more sensitive detector and autosampler, which the Logi-CHROM with Flow-RAM has. The main reason for an autosampler was to perform stability studies on the final dose produced. Without the Logi-CHROM's autosampler, we would have to manually inject every hour for up to eight hours when using fluorine-18. With the autosampler, I can prepare a batch, leave it there, and the Logi-CHROM does everything for me. I can carry out other work without worrying about it, so it's a very convenient feature."
The Logi-CHROM's autosampler has three unique injection modes to deliver superb sample integrity for different user requirements and has an integrated Intermediate Loop Decompression valve to reduce sample dilution while increasing measurement reproducibility.
Anna also added, "The Logi-CHROM is a very quiet HPLC system. Some of the older models I've used can be very loud and when you're sitting in front of it all day, it can be maddening, so the Logi-CHROM is very pleasant by comparison."

A single software solution for instrument control and regulatory compliance
The installation in Essen was carried out by one of LabLogic's dedicated service engineers based in Europe, along with a Scan-RAM radio-TLC scanner for the analysis of radioactive compounds. Anna uses LabLogic's Laura for PET™ radiochromatography software to control the instruments, which is designed to meet the regulatory compliance as specified by Annex 11.
"Using Laura for PET™ to control the instruments is much more user-friendly than other software I've used. It's easy to set up a new methodology, start a new project or navigate through existing ones, and purge the system when I need to. Everything is displayed clearly and it's easy to navigate. Being able to use Laura for PET™ for both HPLC and TLC instrumentation is convenient and allows us to standardise our work, rather than using two different software packages."
Although the Logi-CHROM was a new installation at Essen University Hospital, Anna was already familiar with LabLogic instruments from previous experience at other facilities. "I first used LabLogic instruments during my PhD at the University of Hull in the UK where we used a Scan-RAM. I think the Scan-RAM is the gold-standard for radio-TLC because everywhere I've worked has had one! I've never used another model. Later, I held another postdoctoral position in the Department of Oncology at the University of Oxford which was entirely equipped with LabLogic's instrumentation as well."
Find out more
You can learn more about the Logi-CHROM by clicking the button below to speak to a product specialist.