Advanced tritium analysis at nuclear power stations using the Hidex 300 SL
3 August 2023
Watts Bar NPP in Tennessee is validating the liquid scintillation counters to count gaseous and liquid samples in key systems
Three Hidex 300 SL liquid scintillation counters have been installed at the Tennessee Valley Authority's Watts Bar nuclear power plant where it is used by the Chemistry Department to count tritium in various plant samples, including gaseous and liquid effluents. The NPP generates enough electricity for 1,200,000 homes.
Radiological Chemist Brooke Underwood said, "Several of our plant systems require tritium analysis, so we must have reliable instrumentation to accurately determine activity in these areas. Plant, personnel, and environmental safety are our priority, and having reliable instrumentation is key to ensuring we are not exceeding any administrative or regulatory limits. We are currently validating the 300 SLs and are producing excellent results compared to our previous liquid scintillation counters. Once approved, we'll use the 300 SLs to measure tritium in a variety of systems such as our Reactor Coolant System, Spent Fuel Pool, Liquid Radwaste, Feedwater, Steam Generator Blowdown Common, as well as various storage tanks and exhaust vents on-site.
"The 300 SLs have replaced two older PerkinElmer counters and we acquired a third Hidex as a backup. During validation, we've found the 300 SLs to be very sensitive and excellent for low-activity samples like our monitor wells, in addition to higher activity samples, such as the RCS."
Eliminating internal radiation sources
One of the Hidex's most unique features is TDCR, or Triple to Double Coincidence Ratio, which uses three photomultiplier tubes instead of two as many other counters use. This three-detector system can automatically calculate counting efficiency, which correlates to quenching, and eliminates the need for an internal radiation source, eliminating associated hazards with disposal and training.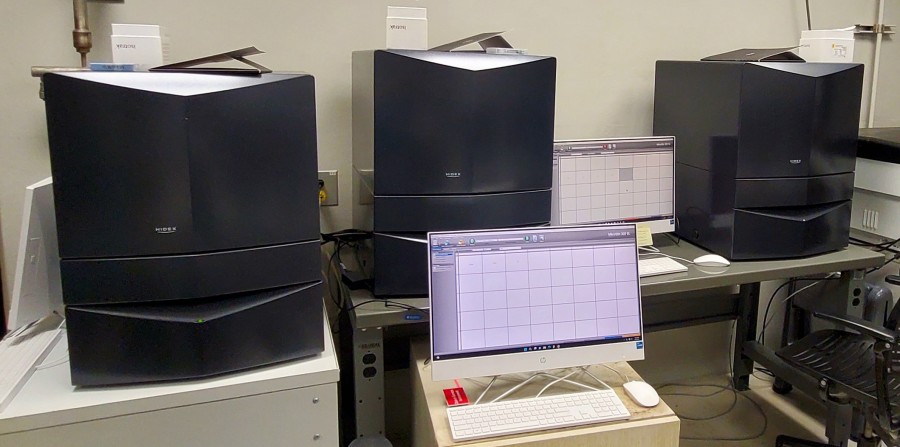 Watts Bar's three Hidex 300 SLs in their Chemistry Department.
"The service delivered by both LabLogic and Hidex has been exceptional … "
With a compact footprint and no moving parts, the 300 SL is much easier to service than other models. Brooke said, "The service delivered by both LabLogic and Hidex has been exceptional, not only with the initial installation but also afterwards. The support has been very responsive, which has allowed us to continue pushing validation forward, which can be a long process. The technicians have been able to learn Hidex's MikroWin software quickly, which they've found easy to use."
Hidex is the only manufacturer of liquid scintillation counters whose software is fully compatible with Windows 11. MikroWin can be run on any external desktop instead of relying on an internal computer integrated into the LSC itself. This can present problems if there is a fault with the internal computer, as it prevents the user from operating the counter. It also allows MikroWin to be easily updated with new releases and is compatible with Microsoft's latest security features introduced in Windows 11.
Find out more
You can learn more about the Hidex 300 SL and its applications in NPPs by clicking the button below to speak to a product specialist.