Equipping the new PET Centre at the King Hamad University Hospital
4 April 2014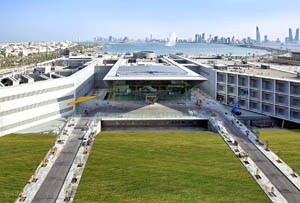 LabLogic have recently secured a contract to fully equip the new PET Centre at the King Hamad University Hospital in Bahrain with its innovative PET QC Solution.
The King Hamad University Hospital (KHUH) is a centre for organ transplant surgeries and trauma in the Kingdom of Bahrain. It is an ultra-modern facility using state-of-the-art medical technology and the most sophisticated information systems, providing a service to the citizens and residents of Muharraq Governorate in particular and the people of the Kingdom of Bahrain in general.
The new PET Centre is part of the hospital's continued development and will provide their nuclear medicine department with the ability to label, image, visualise and provide treatment with 18-FDG and, in the future, other customised PET radiotracers.
The QC solution devised for the centre includes a Scan-RAM radio-TLC scanner, Flow-RAM radio HPLC system, GC, MCA, etc., and Laura for PET, the radio-chromatography software package which provides a single point of control.