Sense now HTRF certified
4 June 2015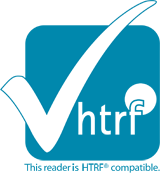 The Hidex Sense is a compact, state-of-the-art, multi-technology microplate reader which provides a powerful and flexible platform for performing any kind of assay without limitations.
HTRF® (homogeneous time resolved fluorescence) is a technology based on TR-FRET (time-resolved fluorescence resonance energy transfer) chemistry. TR-FRET unites standard FRET chemistry with the use of lanthanide donors, fluorophores with long emission half-lives. This powerful combination provides significant benefits to drug discovery researchers including assay flexibility, reliability, increased assay sensitivity, higher throughput and fewer false positive/false negative results.
While HTRF® is based on TRFRET chemistry it has many properties that separate it from other TR-FRET products. These include the use of a lanthanide with an extremely long half-life (Europium), conjugation of Eu3+ to cryptate, an entity which confers increased assay stability and the use of a patented ratiometric measurement that allows assay interference correction.
Other HTRF® technology features include:
Homogeneous Assay Format
Low Background
Simplified Assay Miniaturization
Low Compound & Media Interference
Tolerant of Assay Additives such as DMSO & EDTA
Cell-based Functional Assays
Following testing by Hidex and cisbio the Hidex Sense is now accredited for HTRF.