300 SL with alpha beta separation illustrates the point perfectly
10 June 2016
LabLogic recently carried out a wipe test for Xofigo® contamination at New York's Long Island Jewish Hospital.
The facility, which is a component of the Long Island Jewish Medical Center and the clinical and academic hub of the Northwell Health System, is a 452-bed tertiary adult care hospital with advanced diagnostic and treatment technology, and modern facilities for medical, surgical, dental and obstetrical care.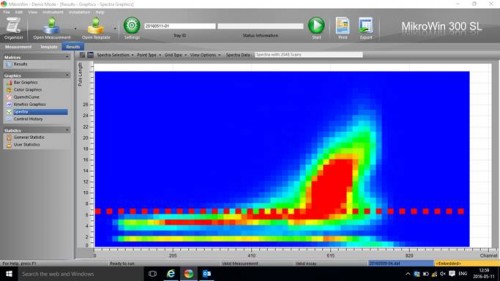 Their nuclear medicine department uses Xofigo® to treat prostate cancer that is resistant to medical or surgical treatments that lower testosterone and has spread to the patient's bones with symptoms, but not to other parts of the body.
A relatively new treatment, Xofigo® utilises alpha Ra223, therefore the wipe test was carried out on a Hidex 300 SL with alpha beta separation, which produced spectacular results.
The first image shows the 3D spectral separation based on pulse length. The red dotted line is the pulse length index (PLI). Anything below is registered as beta, whilst anything above is registered as alpha. The deep red concentration of alphas above the PLI is clearly visible, as is the faint broad red under the PLI which is the residual beta's.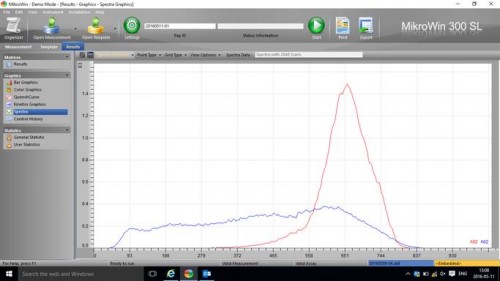 The second image shows just a 2D spectrum. The tall pinkish peak is Ra223 and the broad blue is the residual beta. Without the 300 SL's alpha beta separation it is not possible to generate a 3D spectral plot and the 2D one will simply bend into each other (the alpha and beta will look like one large spectrum).

When optimised with the user's scintillation cocktail it is possible to achieve near zero percent spillover.