The Hidex Triathler is ideal for Cardiff University
12 March 2019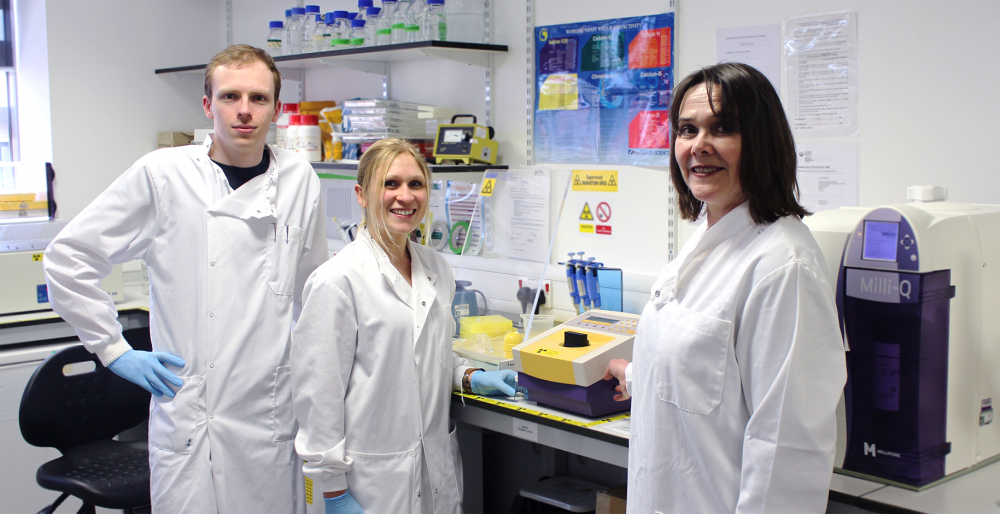 Pictured left to right: Jack Reddaway (PhD Student), Dr Anna Moon and Dr Kerrie Thomas
The Hidex Triathler Liquid Scintillation Counter and Luminometer reviewed by a leading research university
Emma Dalton, Laboratory Manager at the Neuroscience & Mental Health Research Institute at Cardiff University, discusses how the Hidex Triathler liquid scintillation counter and luminometer has benefited the facility.
Maximize your lab space
The Triathler is small and weighs less than 10 kg, therefore it is ideal for busy laboratories - in particular, research universities where space is of vital importance.
This is the case for Emma, who said: "In the space where our old scintillation counter used to be, we now have a busy computer bay that boasts six machines. The Triathler has enabled us to maximize space in our busy university lab, proving highly beneficial for all who use it."
The Triathler is the definition of student-proof
The instrument is simple to understand, and its user-friendliness is advantageous for users with different levels of knowledge and expertise.
At Cardiff, a variety of students use the Triathler, as Emma explains: "The Triathler is used by undergraduates for project work, MSc students, PhD students, and also foreign students who are studying at Cardiff including the Erasmus programme. Even with language barriers, the Triathler isn't difficult to operate. It's the definition of student-proof."
Range of projects
For such a compact instrument, the Triathler is perfect for working with a range of different isotopes including H-3, C-14, P-32, S-35, I-125, and Cr-51, while also providing users with the option to use different types and sizes of vials.
Emma said: "Since purchasing the Triathler in 2016, it has been used for a range of projects. Currently, a group are doing in-situ hybridisation with S35, using the Triathler to check samples and probe concentrations, making sure the probes are the right concentration to show up on film."