Using the Hidex 600 SL at the new NNUF RADER laboratories
22 June 2021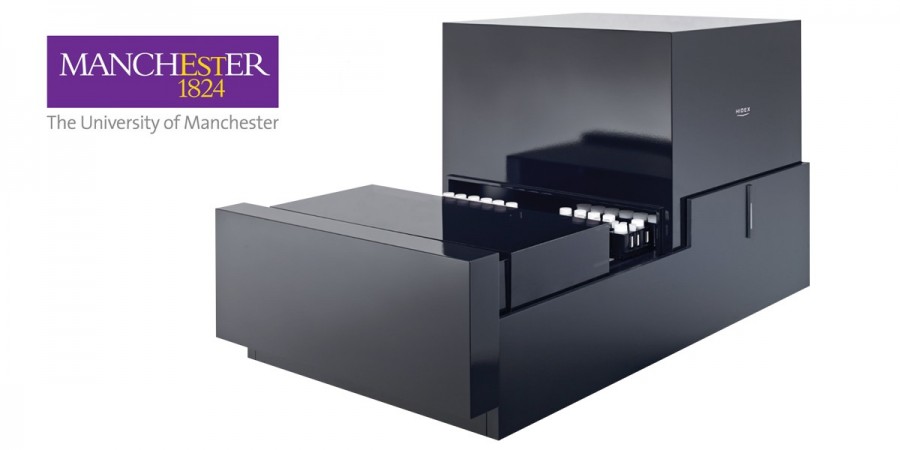 Hidex 600 SL liquid scintillation counter used at NNUF RADER
The new National Nuclear User Facility RADioactive waste Management and Environmental Remediation (NNUF RADER) laboratories are co-located at the University of Manchester and will support research into characterising and understanding the behaviour of radioactive species in engineered and natural environments.
This facility is housed in the Department of Earth and Environment at the University and provides a suite of instrumentation and facilities for the experimentation with, and analysis of, low activity radioactive environmental samples.
Choosing a Hidex 600 SL liquid scintillation counter for experiments
Dr Anthony Stockdale is an Experimental Officer at NNUF RADER and chose the Hidex 600 SL liquid scintillation counter for experiments related to radio-isotopes in the natural environment and to the disposal of UK legacy radioactive wastes alongside analysing swab safety tests.
Lower reliance on computation corrections
Dr Stockdale said: "We chose the Hidex 600 SL due to its lower reliance on computational corrections, a high level of engagement between us and the LabLogic product specialists, and whilst only a minor consideration, it certainly helps that the Hidex instruments are aesthetically well designed."
"It was essential that we could analyse at the lowest level possible so environmental levels can be detected above background, so the extra shielding of the low-level version was essential for us. The large capacity of the samples will be of significant benefit in the future as we increase the user base for the facility."
Easy to use Hidex instruments
He added: "We also have a Hidex Triathler Liquid Scintillation Counter and Luminometer that we use for swabbing of samples before exporting samples to other facilities such as the Diamond Light Source. Both the Triathler and the 600 SL are easy to use. I'm looking forward to delving into some of the more advanced options like alpha/beta separation in the near future as the facility becomes more widely used."
"Great service from LabLogic"
Throughout the COVID-19 pandemic, LabLogic and Hidex have ensured installations are carried out safely in line with current guidelines.
Dr Stockdale said: "I received great service from LabLogic and had good contact with sales advisors, and application specialists were also made available for expert guidance. Install was arranged according to our requirements and was carried out efficiently. We have also had post-install follow-ups to check the system is working to our expectations. I would definitely recommend LabLogic."
Book a demo today
If you'd like to book a demo for any of our Hidex instruments, please get in touch via the button below and a product specialist will be in touch to arrange a demo at your convenience.