Introducing the NEW Byonoy Absorbance One
1 February 2022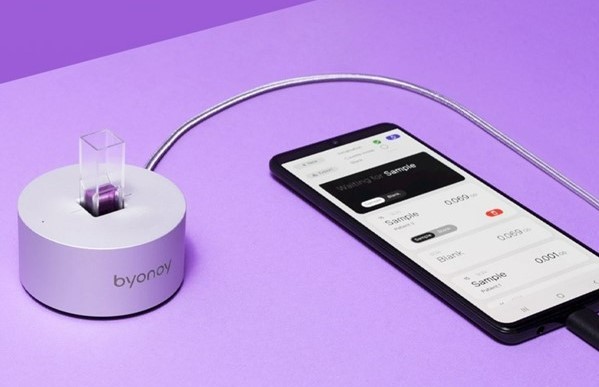 Cuvette reading in the palm of your hand
Byonoy's Absorbance One is your portable single-mode UV-visible spectrophotometer. Utilising the same user-friendly experience as the Absorbance 96 and with an introductory offer for 6 months, its affordability and compact design make it available to every lab and workstation, bringing cuvette reading straight to the palm of your hand.
Applications
Capable of reading up to 5 OD, the Absorbance One pushes the limits of dynamic range. For endpoint or kinetic measurements, a single wavelength per device means it can be tailored specifically to the desired colorimetric assay ranging from 260 to 1000 nm, including:
260 nm - RNA/DNA Quantification A260
280 nm - Protein Quantification A280
340 nm - NAD/NADH Quantification
562 nm - BCA
595 nm - Bradford
600 nm - OD600
Auto-cuvette detection, auto-initialisation, auto-measurement
The application of Byonoy's ambient light cancelling technology combined with the Absorbance One's smart design allows easy sample insertion. Auto-cuvette detection begins reading the sample immediately, with the results displayed instantly in the Absorbance One app.
A USB cable connects the device to your computer, tablet, or smartphone and provides access to the app, where a simple, intuitive interface allows measurement results to be easily recorded and exported into different files formats.
Find out more
You can learn more about the Absorbance One by clicking the button below to speak with our product specialist directly and have a one-to-one guided session.