Supporting the development of radiopharmaceuticals for targeted alpha therapy
1 March 2022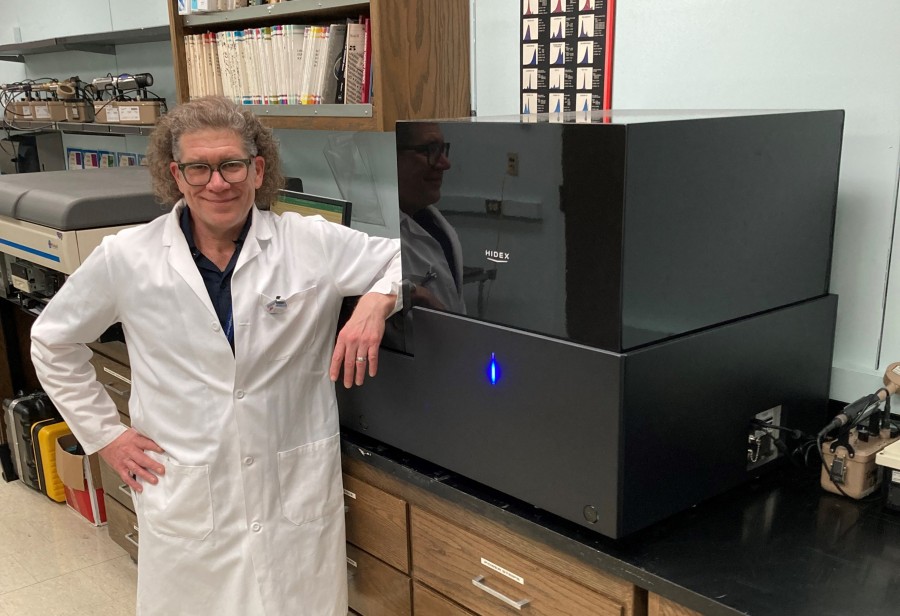 Mike Zittle, Radiation Protection Officer at the University of Washington with his Hidex 600 SL
Hidex 600 SL at the University of Washington
Michael J. Zittle is the Radioactive Materials Compliance Manager and Associate Radiation Safety Officer at the University of Washington in Seattle. Mike is a Certified Health Physicist and has worked at academic research institutions for nearly 25 years. Mike has been using the Hidex 600 SL to maintain compliance and safety at the university and its three attached medical centers.
Mike previously worked at UCLA, Caltech, Oregon State University and the Jackson Laboratory prior to joining Washington, and has developed a close working relationship with the team at LabLogic. We contacted Mike to see how he is planning to use the Hidex 600 SL in the development of radiopharmaceuticals for targeted alpha therapy.
Health and safety
Mike began by explaining how he currently uses the 600 SL, saying, "We use the Hidex to count radiation safety wipes that have been used to take samples from our laboratories, looking for contamination, as well as radioactive material packages that we ship and receive every day. We also count radioactive liquid samples, waste, and occasionally urine bioassays from people who may have ingested or inhaled radioactive material. It's important we monitor them to make sure they're not exceeding safe levels of exposure.
"We also have a regulatory requirement to perform sealed source leak tests every six months, based on International Atomic Energy Agency standards. Instruments in our labs use sealed sources of radioactive isotopes like Cesium-137, Cobalt-57, and Cobalt-60, so we have to make sure these are not leaking."
Mike has worked with a lot of liquid scintillation counters over the years, and reflected on how the Hidex 600 SL favourably compares to older models, saying, "When I worked at UCLA, we used an old Beckman liquid scintillation counter that contained a Cesium-137 source. Once, the radioactive source broke open inside the counter and contaminated all the inner workings. It raised our background readings and messed all of our counts. So, what's the advantage of the Hidex 600 SL? It has no internal sealed source! Because it's calibrated with three tubes and uses triple coincidence counting, it compensates for not having the source.
"And that's so much better because you don't have to worry about disposing of a radioactive source, because there isn't one to begin with, and you don't have to train people in health and safety around radioactive material. So when that Cesium-137 leaked inside that old Beckman, it just caused all sorts of problems for us."
Targeted alpha therapy
The Hidex 600 SL has proved a reliable workhorse for Mike in keeping things safe, but now he's looking at what else he can do with it.
"Something I really want to get into with the Hidex is alpha/beta separation, because we have some groups here at the university working with targeted alpha therapy (TAT) radionuclides using Actinium-225 and Astatine-211, and that's really the future. These particular radionuclides emit alpha particles that pack a big punch when it comes to killing cancer cells internally, compared to external gamma rays.
Alpha/beta separation
"Being able to detect and separate alphas and betas is critical, because alpha particles are more dangerous to humans, and this is where the counting comes in. I'm responsible for the safety of the researchers and chemists who are working with cyclotron-produced radiopharmaceuticals, and making sure they're not inhaling or ingesting alpha particles. Now we could use a Geiger counter to monitor this with low efficiency, but if I can take a swipe and put it into the 600 SL, my efficiencies are great, I can see down to sub-picocurie levels.
"And this really excites me, because in my world, we are performing radiation cancer therapy to help humanity. So, I support that by making sure the research facilities aren't contaminated, and there aren't unnecessary health or regulatory risks.
High praise for Hidex
"I have colleagues across the United States who use Hidex products; including at NIH (National Institutes of Health) and 300 SLs are everywhere. I must know twenty people with those. I'm actually hoping for funding approval for a Hidex 300 SL, I really want one to use as a backup LSC in the counting laboratory at our waste facility."
Going beyond customer service
Mike and LabLogic have been working together for some time now, and Mike had high praise for Ashvin Boodhun, Product Specialist, and Sean Rossiter, Service Engineer.
"Those guys are awesome, LabLogic are not like usual salespeople. I've been doing this long enough to know when people know their stuff, and Ashvin has credibility, he's a real expert. I knew him for a long time before purchasing the Hidex 600 SL. Finding a liquid scintillation counter took me about five years, so I really fostered a relationship with Ashvin. We don't have the usual vendor-scientist relationship – we're like bros! He's been to see my band play. I email or text these guys and they're very responsive, sometimes they're back to me within minutes. Excellent customer service."
Although Mike has always enjoyed working with LabLogic, it wasn't always a smooth ride, as he explained. "We got one of the first Hidex 600 SLs – a really early model – and we had some issues. LabLogic came out to Seattle to try and fix this machine, even Hidex came out from Finland. In the end, Colin Stokes, LabLogic's Quality Director, called me and said, 'we're going to give you a new machine'. Well, Christmas came early for me right there and then. Colin Stokes "stoked me" with a brand new Hidex 600 SL!
"The new machine got installed over a year ago and I love it, it's great. I actually liked the original one when it worked! I just think there were some mechanical issues, such as alignment of the laser, which was so advanced compared to older generation LS counters.
"So, I definitely had an experience, but it was good, because firstly, I learned – a lot! Secondly, I made some excellent connections with Ashvin, Sean, and others. And thirdly, I want another! I want that 300 SL.
Ongoing service and support
"Ashvin's support is excellent, and he spent a lot of time working with me, going over the parameters. We really went in-depth and the reports we generate are very detailed. Ashvin's good coaching helped me understand the software on a more advanced level. It's allowed me to do some really nice things in terms of reporting for different counting scenarios."
Find out more
You can learn more about the Hidex 600 SL by clicking the button below to speak with our product specialist directly and have a one-to-one guided session.