Combined Optical and CT for operational imaging of small animals
1 March 2023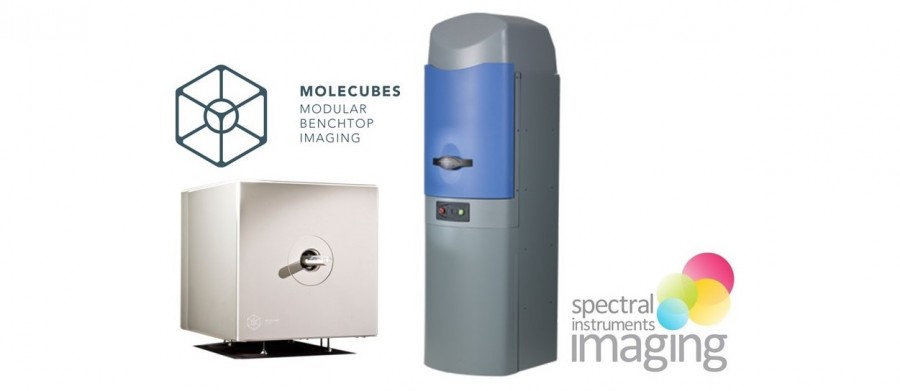 MOLECUBES' X-CUBE has been integrated with Spectral's Lago for bioluminescence, fluorescence, and CT
The Lago Optical CT by Spectral Instruments Imaging is a fully integrated solution that delivers high-performance optical coherence tomography. Combining the Lago in-vivo optical imaging system with the pioneering X-CUBE CT imager by MOLECUBES allows operational imaging of small animals, including bioluminescence, fluorescence imaging, and CT, without compromising the integrity of research outcomes.
The Lago uses a high-performance CCD camera that is air-cooled to -90°C to record luminescent and fluorescent images, which are collected by a large-aperture lens with automated filters and field-of-view selections. Being equipped with a 25x25cm Field-of-View (FOV) that is the largest available allows an unmatched capacity of 10 mice, delivering higher throughput for translational studies that require large sample sizes, including vaccine research and oncology. The Lago's patented LED illumination and weak signal detection provide unprecedented power and previously unattainable sensitivity for fluorescence and bioluminescence.
The X-CUBE allows fast mouse and rat CT imaging at extremely low doses, with excellent soft-tissue contrast and a resolution of up to 50 microns. It achieves enhanced imaging with gated and dynamic contrasts, as well as iterative reconstruction techniques. Intuitive wireless software, combined with multimodal small animal beds, allows for easy and modular imaging. The X-CUBE's imaging unit is self-shielded, making it lightweight and portable, which is ideal for laboratories with limited bench space.
Find out more
You can learn more about the MOLECUBES X-CUBE by clicking the button below to request a guided demonstration with a product specialist.