Out of this world
12 December 2016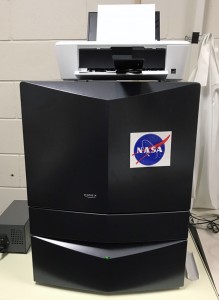 To the casual observer the angled lines of the Hidex 300 SL could be said to give it a slightly futuristic look. However, it was more than its space-age aesthetical appeal which attracted one of NASA's key service providers to acquire one recently.

Integrated Mission Support Services LLC provides a range of environmental and medical services to the NASA Kennedy Space Center in Florida. These include performing clinical operations, aerospace medicine support, musculoskeletal rehabilitation, biomedical studies, environmental monitoring and public health services. The company also provides non-personal technical services to NASA and the U.S. Air Force at Cape Canaveral Air Force Station and Patrick Air Force Base in Florida.

The company invested in the 300 SL - still the most advanced, transportable and user-friendly liquid scintillation counter on the market - to meet a requirement for wipe testing packages before they are sent into space. The instrument met the brief perfectly. Indeed, the 300 SL is a very reliable system with a small footprint, driven by outstanding software which features an easy-to-use graphical interface and advanced data reduction capabilities. All this plus an unlimited number of protocols, easy export to Excel™, with custom calculations and quench curves all included. In this respect the 300 SL certainly delivers 'out of this world' performance.