Hidex Sense microplate reader is what the Dr ordered at UEA
6 December 2018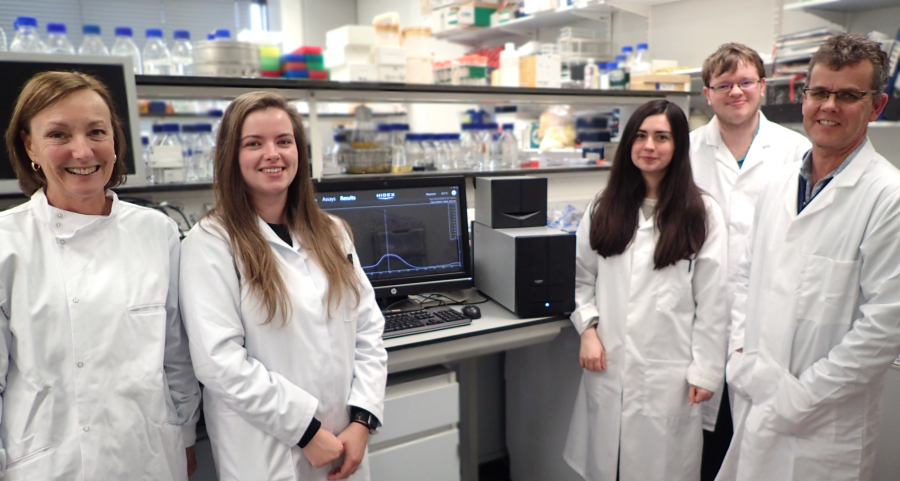 Pictured left to right: Gaye White, Colleen Sprigg, Megan Gilmartin, Gregory Rix and Charles Brearley.
Hidex Sense microplate reader the instrument of choice at the University of East Anglia
The Hidex Sense multi-mode microplate reader is a compact, state-of-the-art instrument which maximises efficiency in your lab. It provides a powerful and versatile platform for performing any kind of assay across various application areas.
LabLogic recently caught up with the first ever UK customer, Dr Charles Brearley, from the University of East Anglia (UEA), to find out what he thought about the system.
A versatile microplate reader with a unique filter wheel
"The Hidex Sense is an extremely popular instrument here at UEA due to its multiple technologies and wide range of features. It is used by a number of departments including Biological Sciences, Pharmacy, and Environmental Sciences.
"Predominantly the Sense is used for absorbance and fluorescence measurements, as well as fluorescence polarisation (FP). It has been used for a number of applications including in vivo FP expression work, luminescence type assays or ATP, and to quantify DNA with SYBR Green.
"The unique filter wheel mechanism in the Sense has up to 32 filters which means we do not having to repeatedly purchase new filters and keep on manually changing them – it gives us more time to focus on our actual work.
"We use a range of fluorescent dyes requiring the use of the full range of filters, and we have been able to test very quickly where you are getting spill over and which filter sets work and which don't. This is very convenient as you can set this up in ten seconds.
"The arrangement of the filters has proven useful in either the excitation or the emission side."
Simple to use software
"We find the Sense software really easy to use compared to our previous microplate readers.
"You can quickly and easily chain together methods with slightly different experimental parameters, which makes it very easy to screen for conditions of the experiment, before going ahead under a defined set of conditions."
LabLogic and Hidex relationship a winning combination
"LabLogic clearly has a great relationship with Hidex and that allowed us to have direct access to their product development team, which proved to be extremely useful. In fact, we customised our instrument to allow for a multitude of filters with different apertures to help with our fluorescence polarisation work.
The whole sales process with Lablogic was faultless, and it was incredibly useful to have a Product Specialist on hand to discuss our customisation options. I would categorically recommend LabLogic, Hidex and the Sense."
For more information on the Hidex Sense microplate reader or for an onsite demonstration, please don't hesitate to contact us.