The LabLogic Group opens new global headquarters
2 December 2022
The new UK premises marks another successful milestone for the company
The LabLogic Group has opened a new state-of-the-art headquarters in Sheffield, named Innovation House. Opened in November 2022 and situated on Sheffield Business Park, the new office delivers a purpose-built workspace that can accommodate the rapidly growing business. Following consistent year-on-year growth, LabLogic had outgrown its previous office, Paradigm House. Despite the affection for the grand Victorian home, it could no longer house the growing workforce, which has grown by over 30% since 2019.
The LabLogic Group - which includes Southern Scientific, Care Wise, and Knight Imaging - has positioned itself as a global leader in the manufacture and supply of instrumentation and software for the detection and measurement of radioactivity within highly regulated areas, including Life Sciences, Nuclear Medicine, Nuclear Power, and Defence. LabLogic has sold instruments and software in over 100 countries and has a presence on all seven continents, including Antarctica.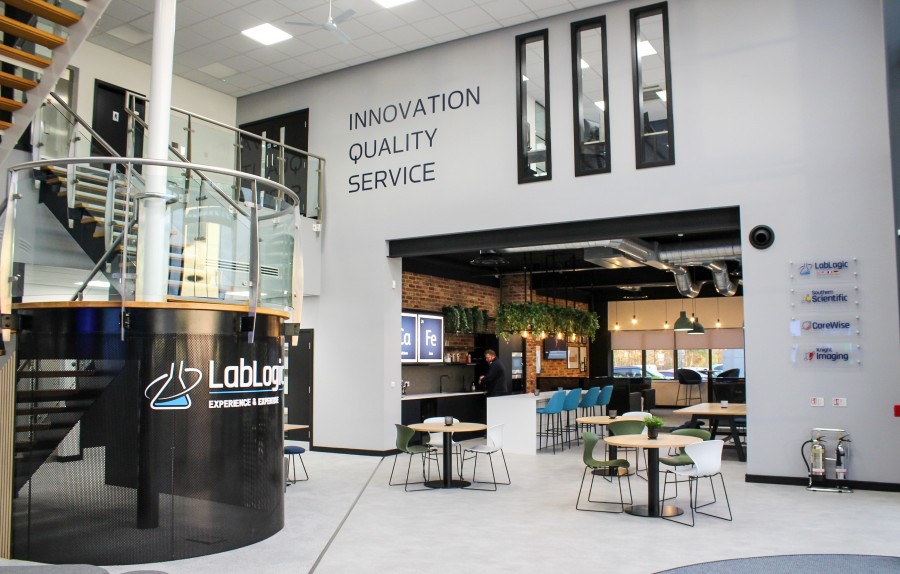 The atrium and LabLogic café at Innovation House
Encouraging collaboration
John Clapham, Founder and Chairman of the LabLogic Group, explained the driving forces behind the investment in a new headquarters.
"Before Covid, we had a great team spirit and company culture; staff travelled all over the world, our teams in the office worked collaboratively face-to-face, and outside of work we were used to numerous social events happening. Covid stopped all that. Although we were able to mitigate a lot of interruptions through online support and remote working, we found it affected the team spirit, and staff who had joined in that period were less integrated into the company culture. Covid was a very difficult time for everybody for lots of reasons, but despite all that LabLogic really thrived as a business. A lot of hard work in developing new products was carried out before 2020 which was released to market as Covid hit and thankfully was a success. We continued to establish ourselves as the leading supplier in a lot of countries, and this saw the Group really grow at a time of market turmoil for a lot of other industries.
"As things began to return to normal and people came back to the office, we realised how much we'd grown and how many new staff joined during this period of reduced social contact. Although many employees were hybrid working, there were some days when everybody would be in the office. The sales team went from occupying one office to three and we were having more and more visitors to our office."
Richard Brown, Managing Director of the Group, said, "We knew we needed a new space, one that could accommodate where we were now as a business but could also take up the further expansion we could see coming our way after some very successful years. And that put us on the path to Innovation House.
"It was important that the new building encouraged collaboration despite recent changes to the working environment and promoted a fun and family atmosphere that we were so used to before Covid, and that fed into the design and planning."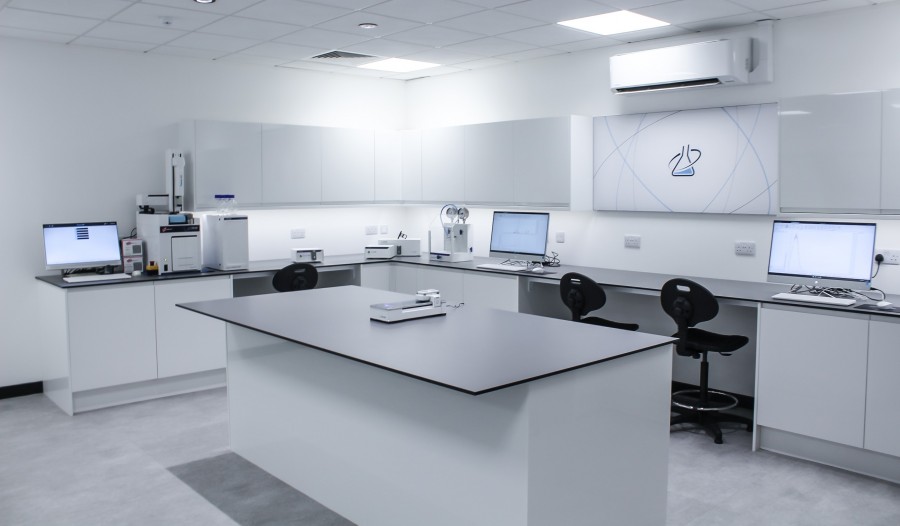 The new lab at Innovation House
A purpose-built workspace
Walking in on the ground floor of Innovation House, a spacious atrium welcomes guests with an impressive staircase leading to the workspaces on the two floors above. Open-plan offices have encouraged interdepartmental cooperation for the parts of the business that work closely together. Sales and Marketing, Development and Quality Assurance, and Admin and Finance now all share adjacent workspaces, which has helped foster better working relationships. Meeting rooms fully equipped with dual screens allow the new head office to keep in close touch with people all over the world, from regional offices in Paris, Hamburg, and Tampa, to distributors, customers, product specialists, and service engineers in the field.
The dedicated Research & Development department, which has been a contributing factor in securing LabLogic's position as an industry leader, has moved from the business's existing production facility and into a dedicated lab at Innovation House. A dedicated training suite with an adjacent state-of-the-art laboratory will allow distributors and customers to be properly familiarised with LabLogic's instruments by our dedicated service engineers and taught best working practices to optimise their own workflows.
Returning to the ground floor, an entirely new communal kitchen styled as the LabLogic café with open-plan dining and seating areas allows staff to socialise at lunch and company events. Paying homage to the company's heritage in the atrium is the Museum, with some of LabLogic's original instruments which built the company's reputation for laboratory management proudly displayed. One of the most eagerly anticipated features of the new office has been the LabLogic gym with full shower and changing facilities, which staff have taken full advantage of with self-organised morning fitness classes.
Consideration has not only been given to the needs of the business and the people within it, but also to the environment. Innovation House includes a number of sustainable green features, including the provision of EV charging points and a rooftop PV array to increase renewable energy usage.
Innovation House will continue to support the Group's existing domestic offices in Bath and Brighton, as well as international offices in the US, France, and Germany.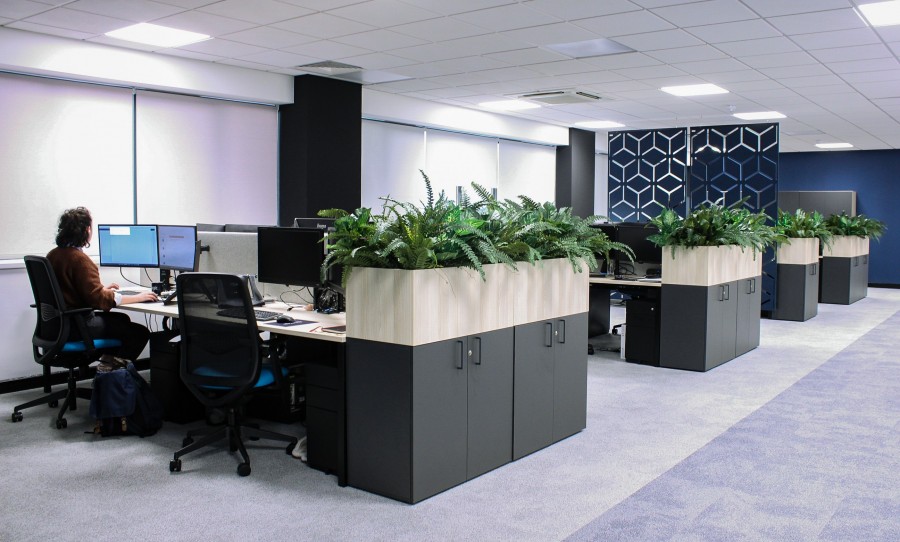 Open-plan offices have encouraged interdepartmental collaboration
---
For more information, contact solutions@lablogic.com.