Combustion of samples in eFate and metabolism studies using the Hidex 600 OX
10 July 2023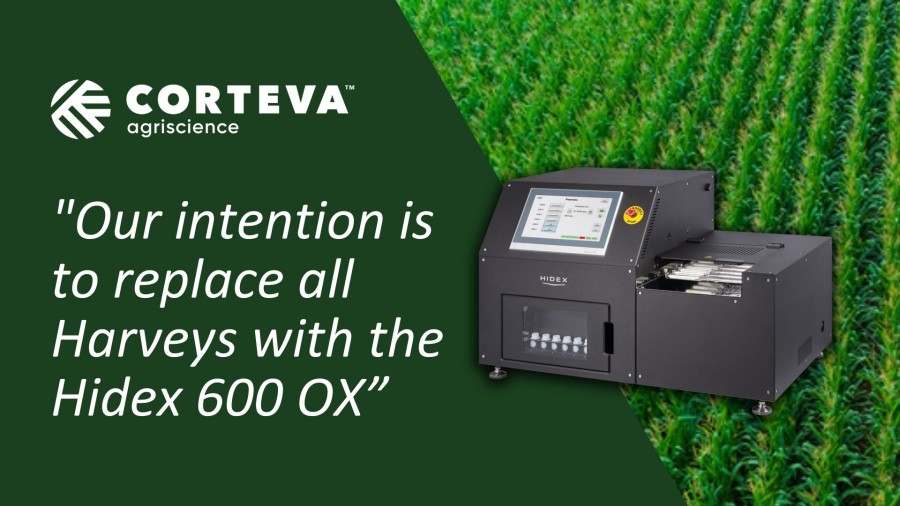 The sample oxidizer is being used by Corteva™ Agriscience to research the residual activity of novel active ingredients
Corteva™ Agriscience is an agricultural research company based in Indianapolis, IN. Christopher Stewart is one of Corteva's Environmental Fate Analysts who has been using the Hidex 600 OX sample oxidizer to research the residual activity of novel active ingredients in soils, plants, and animal tissues with analysis through liquid scintillation counting after extraction. The radiolabelling of samples to be combusted in the 600 OX is done inhouse.
Explaining his work, Chris said, "My research groups are at the ground level of a study before they're submitted for regulation to the Environmental Protection Agency or whichever governing body it may be. Once a new active ingredient has been developed, such as a pesticide or herbicide, my group performs eFate parallel to metabolism and I'm responsible for combustions.
"We originally had a series of Harvey oxidizers, which look like they fell out of the 1970s. They're no longer being manufactured, and everything was manual. For example, you had to feed the ladle into the oxidizer one at a time, which limited combustions to single samples."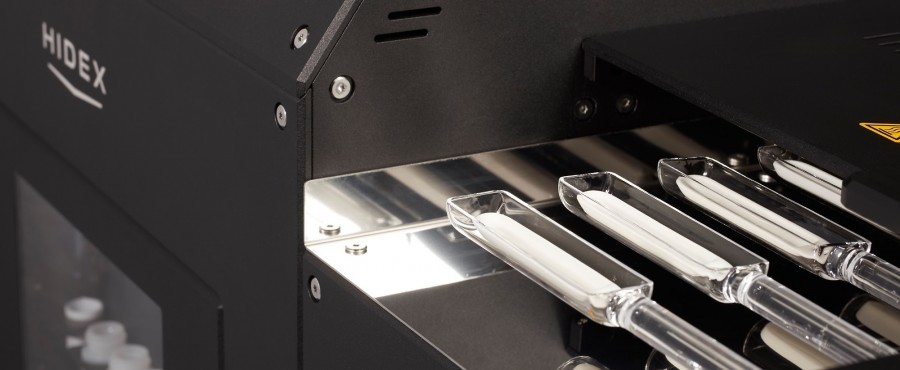 Automated catalytic sample combustion for high-capacity processing
By comparison, the Hidex 600 OX automates the catalytic combustion process to deliver higher throughput and making it safer than other models of oxidizers. Six samples can be combusted in series with each automatically collected, sealed, and aspirated into vials for liquid scintillation counting. The 600 OX also delivers a superior combustion of inorganic material such as soil and sediment by using a catalytic combustion chamber instead of an open flame, allowing the radiolabelled material to be fully extracted and counted.
"When we're combusting something, we run multiple repetitions of any given sample. We'll typically combust five replicates per sample type for metabolism studies, whereas we'll combust three at once for eFate but at different time points as we simulate the soil conditions in the lab, meaning the total number of samples is much greater, so we have a lot of throughput. The Hidex is great because it means you don't have to sit there and alternate the samples every two minutes."
Improved user safety by removing manual handling
With reduced user handling and loading of samples because of greater automation, the 600 OX is significantly safer to operate. With combustion temperatures reaching 900°C, it cools the quartz ladles holding the sample boats before releasing the ladle covers safety interlock. This keeps the user away from active hot zones until they have sufficiently cooled down.
Chris said, "I feel much safer using the Hidex than I ever did using the Harvey. It automatically carries out many of the safety checks that older models require to be done manually. It won't even run if the Teflon nozzle doesn't seal the scintillation vial properly. It's reassuring that it mitigates the chance of me accidently touching a piece of quartz that's hundreds of degrees.
"We've liked the 600 OX so much that we've purchased a second one and our intention is to eventually replace all the Harveys with them."
Find out more
You can learn more about the Hidex 600 OX by clicking the button below to speak to a product specialist.