Validating Analytical Methods in the development of Lutetium-177-PSMA-1
25 July 2023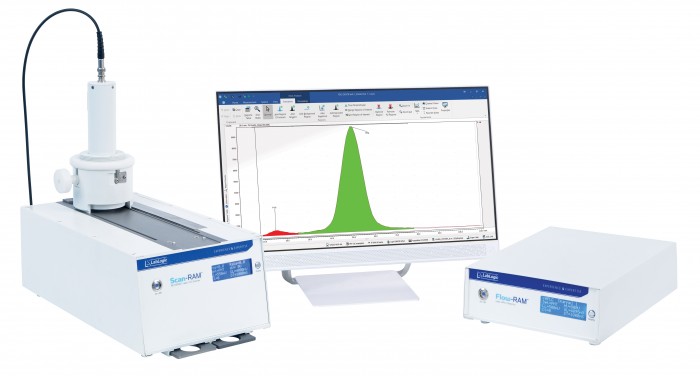 LabLogic's instruments have been used to produce a validation dossier for a new beta-emitting radiopharmaceutical for therapy
Grenoble University Hospital (CHU Grenoble Alpes) and Grenoble Alpes University (UGA) have used LabLogic's instruments to submit an Investigational Medicinal Product Dossier (IMPD) for a new radiopharmaceutical labelled with Lutetium-177. A validation dossier for Analytical Methods has been produced to assess the radiochemical purity of 177Lu-PSMA-1 using the Flow-RAM for Radio-High Performance Liquid Chromatography (r-HPLC) and Scan-RAM for Radio-Thin Layer Chromatography (r-TLC). You can read more about the validation of the Analytical Method by clicking here.
Validation batches of 177Lu-PSMA-1 and free 177Lu were chemically separated through selective extraction using r-HPLC and r-TLC to evaluate several criteria including the limit of detection, limit of quantification, specificity, and linearity. The means, standard deviations, and coefficient of variation (CV) of radiochemical purity (RCP), retention time (Tr) and retention factor (Rf) were calculated. Linear regression coefficients (R2) were also calculated for the linearity and accuracy calculations, as well as the percentage recovery (%r) for the latter.
Comparing a synthesised product to an analytical standard
The Scan-RAM detector's smooth motor operation delivered excellent positional reproducibility and was able to produce chromatograms with the necessary resolution while the Flow-RAM was used for the analysis of compounds post-separation that allowed the synthesised product to be compared to an analytical standard.
The results have allowed CHU Grenoble Alpes and UGA to validate a reliable and robust method for assessing the radiochemical purity of 177Lu-PSMA-1. The method will be included in a complete dossier and submitted to the French medical regulator ANSM to obtain authorisation to carry out preparation of the radiopharmaceutical for therapy.
Find out more
You can read more about LabLogic's instruments in the validation of Analytical Methods by clicking the button below to speak directly to one of our product specialists.