Introducing miniaturisation to laboratory workflows with the Absorbance 96
31 October 2023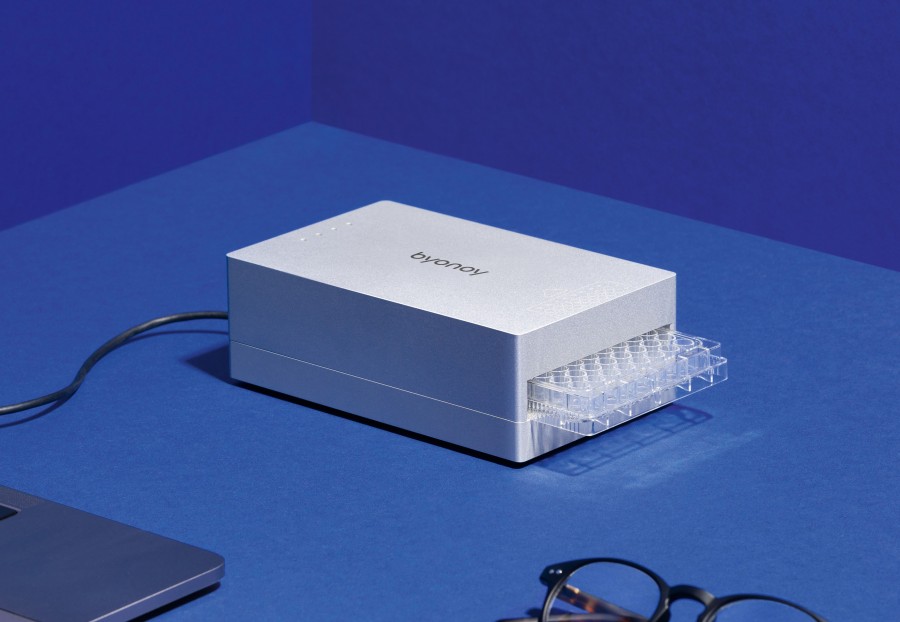 Despite advancements in technology, traditional laboratory workflows still face bottlenecks, but the Byonoy plate reader is scarcely larger than a 96 well plate
Laboratory workflows have evolved significantly, with efficiency being increased at every stage. Despite this, researchers are still encountering bottlenecks in the final stages of their experiments due to the reliance on bulky, expensive equipment. Many of these devices require expert calibration upon relocation and thus are confined to single rooms, far away from laboratories. For research groups running time-sensitive 3-day kinetic experiments, centralised equipment proves particularly troublesome, as equipment becomes inaccessible for prolonged periods therefore disrupting the flow of research.
Miniaturisation allows decentralisation
Byonoy, manufacturer of the Absorbance 96 microplate reader, have begun to decentralise laboratory equipment to solve some of the key issues faced by researchers. Scarcely larger than a 96 well plate, the Absorbance 96 offers flexibility and convenience. Equipped with USB connectivity, the device overcomes the constraints of traditional laboratory instruments. It not only integrates into standard benchtop setups but also adapts to space-restricted environments such as incubators, anaerobic chambers, and even facilitates on-field data collection.
Key features
0.9 kg weight.
Solid-state technology meaning resistance to shock and vibrations from user handling.
7x smaller than the smallest compatible plate reader.
Powered via USB.
Plug-and-play technology.
Find out more
You can learn more about the Byonoy Absorbance 96 plate reader by clicking the button below to speak to a product specialist and request a guided demonstration.