Radiation monitors assist building decommissioning
6 January 2010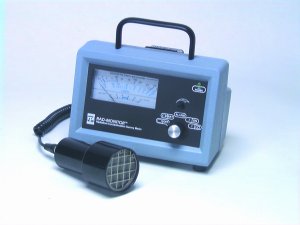 Robust design, simple single-button operation and low cost are just a few of the reasons why the Radiological Services Team at the international environmental consultancy RPS Group uses radiation contamination monitors from LabLogic Systems.
The company relies on the Rad-Monitors for radiological surveying associated with decommissioning of buildings in which radioactive materials may have been used, such as monitoring the interior of laboratory fume cupboards. The instruments are also used in support of ground investigation work.
"LabLogic's sales staff are very helpful and supportive, and orders are dispatched promptly," says RPS' radiation protection adviser Simon McLauchlan. "We will definitely buy from them again."
LabLogic offers three Geiger Muller-based Rad Monitors for detection of 14C, 32P, 33P and 35S: the general-purpose GM1, with a 28.5 mm (1.125 inches) tube detector; the GM2, which has a larger end window (45 mm / 1.75 inches); and the GM2-P for monitoring surfaces, with a pancake probe and a large diameter GM tube.
Completing the range is the high-sensitivity, sodium iodide crystal-based SD10, which has a scintillation probe for detecting X-Rays as well as Gamma emitters such as 125I and 99Tc.