Perform different assays with ease using the Hidex Sense microplate reader
28 January 2020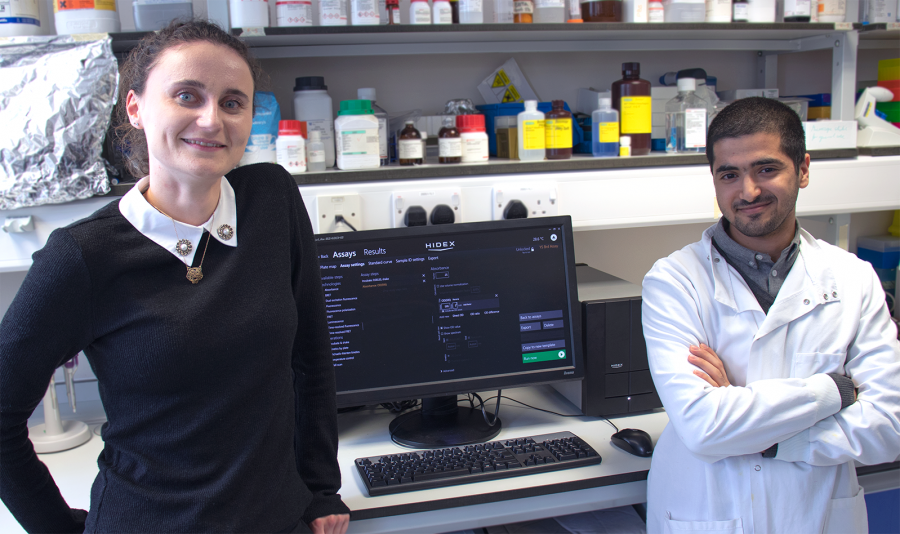 University of Manchester's Division of Pharmacy and Optometry has chosen the Hidex Sense multi-mode microplate reader
Debbie Fischer and the Division of Pharmacy and Optometry at the University of Manchester are the new owners of the Hidex Sense microplate reader. Debbie is part of Kay Marshall's research group investigating diagnostic biomarkers and improved therapies for female reproductive disorders.
The only platform you will need thanks to its power and flexibility
The Sense offers a powerful and flexible platform for you to work with; it can be the gateway for your lab to develop assays and conduct advanced, high-quality experiments.
"We're so excited to have use of the Sense. Thanks to its excellent features, it will help us to perform new ex vivo assays, tracking the degradation and fate of our novel drug delivery system within the pelvic cavity."
Debbie's old microplate reader could only read a limited number of fluorescent wavelengths whereas the Sense offers a sophisticated filter wheel, containing up to 32 filters, all suitable for excitation and emission.
This provides Debbie with the flexibility of a monochromatic plate reader together with the ideal sensitivity and speed for real-time applications.
Versatile, compact, and competitively priced
Debbie noted that the Hidex Sense was "competitively priced with far more functionality for performing different kinds of assays" when compared to other similar specification plate readers on the market.
The Sense is a small, portable instrument that can be easily transferred between labs; "We plan to use it with different systems such as a normoxic or hypoxic chamber because it's so easy to move around."
Explore FRET assays, protein interactions, and binding
Debbie discussed the potential future for FRET and the key role that the Sense could play. "I think FRET is starting to revolutionise research into receptor pharmacology, location and signalling. The Sense has many capabilities that none of the other plate readers in our Division seem to have. It will help us to unravel drug effects, targets and their mechanistic pathways." Overall, the Sense will aid the development of scientific understanding in the pharmacology of receptors and the effect that drugs have on them.
Everybody is capable of using the Sense
Within the Division of Pharmacy and Optometry, there is a wide range of different research groups, each of which will benefit from the Sense. "It's so user-friendly and versatile; everyone has found it very simple to operate."
"It will strengthen pharmacology, biochemistry, pharmaceutics and cancer biology research within the Division to name but a few. We've already performed many biomarker and drug discovery assays and are delighted with the Sense."
Amazing service
Debbie concluded, "Everything has gone smoothly. The LabLogic Product Specialist has been fantastic at responding to questions and ensuring all our needs are met. The instrument had a short turnaround time from order to installation and LabLogic helped us every step of the way. The service has been amazing! I can't recommend LabLogic enough".