Cell imaging systems for all life science applications
13 March 2023

LabLogic has a range of cell imagers to suit all applications from larger systems used in oncology, immunology, and stem cell research to smaller microscopes for assays and cell confluences. The Phasefocus Livecyte and zenCELL owl are two key systems with unique features designed for different areas of research.
Phasefocus Livecyte kinetic cytometer
The Phasefocus Livecyte is a kinetic cytometer that generates label-free high-contrast images. The Livecyte can be used to measure cell growth independently from proliferation, as well as cell motility, mitosis, dry mass, and more. It is currently used in many prominent research centres such as the Francis Crick Institute and the Huntsman Cancer Institute.
Automatically tracks single cells using Quantitative Phase Imaging (QPI)
QPI does not require fluorescent labels or phototoxic illumination sources meaning cell behaviour is not influenced when imaging
Produces high-content live cell assays
Up to 7 fluorescent channels
Intuitive software with easy-to-use dashboards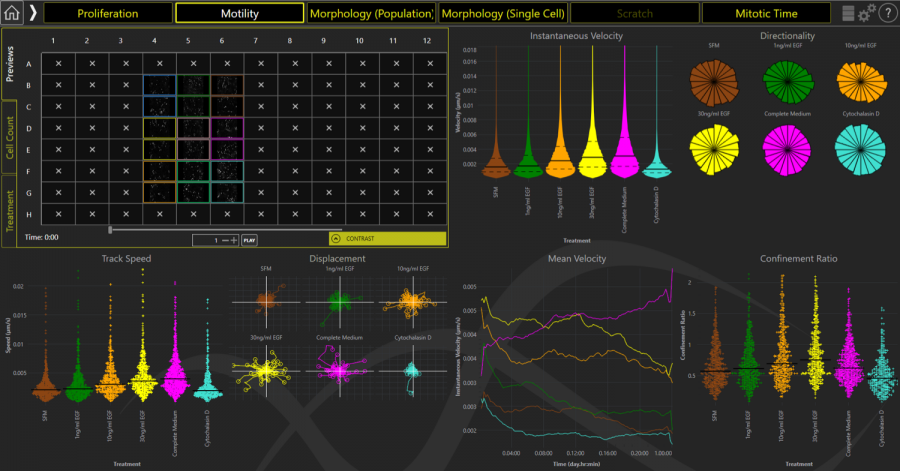 The Livecyte's dashboards allows single-cell behaviour to be automatically quantified and analysed.
You can learn more about the Livecyte by clicking the button below to request a guided demonstration with a product specialist.
---
zenCELL owl live cell imager
The zenCELL owl is a 24-camera microscope for fast and automated live cell microscopy. Small and modular, it can be used for determining cell growth, confluence, cytotoxicity tests, migration assays, and more. The owl has previously been used at the University of Surrey to study Buruli ulcer pathogenesis.
Solid-state technology meaning no maintenance is required
Measuring just 18x18cm, it has a small, compact footprint saving bench space and allowing optimised working layouts
Continuous brightfield cell monitoring
Count and confluency measurements
Its stability even above room temperature makes it ideal as an incubator microscope for cell migration assays and cell cytotoxicity testing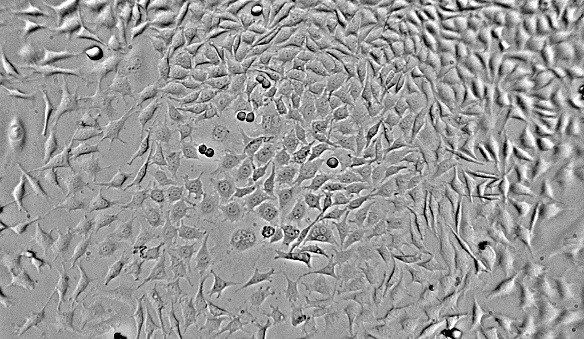 A L929 fibroblast cell line recording after 48 hours using the owl.
You can learn more about the zenCELL owl by clicking the button below to request a guided demonstration with a product specialist.